Accountancy, Business and Management (ABM)
Senior High School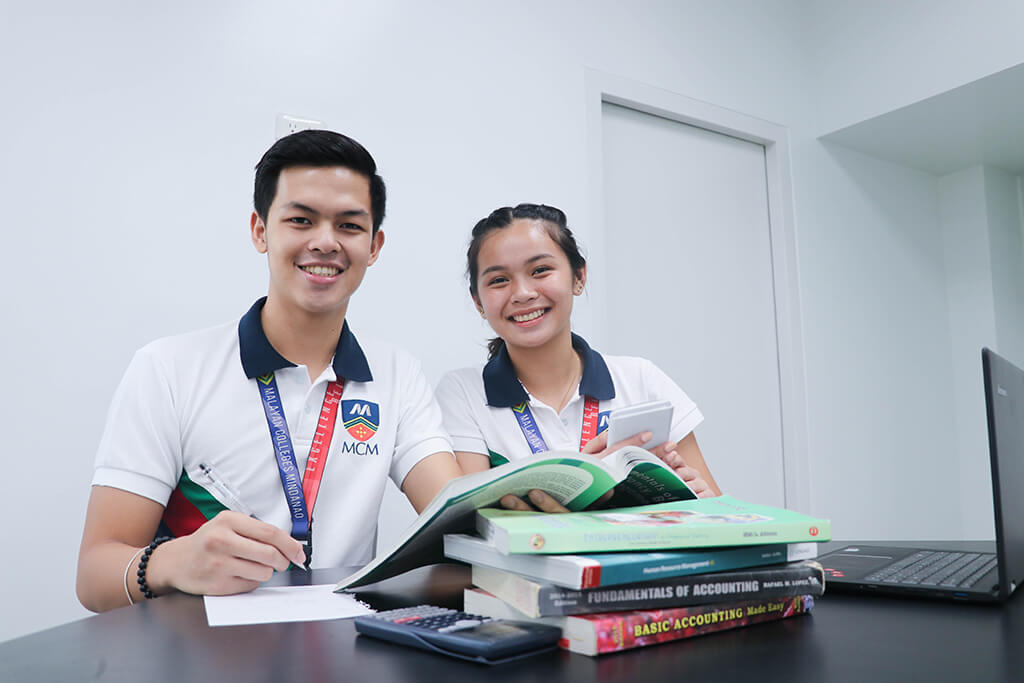 Accountancy, Business and Management
(ABM)
This strand is designed for students who are inclined to pursue college degrees related to business, accountancy, and management programs.
ABM focuses on the basic concepts of business management, financial management, corporate management and operations, human resource management, entrepreneurship, and information technology.
Students enrolled under the strand will have the opportunity to engage in business enterprise simulation and develop business analytical skills.
This strand can lead to careers in management and accounting like sales managers, human resources, warehouse managers, marketing directors, project officers, bookkeepers, accounting clerks, internal auditors, and more. SHS students under this strand can pursue any of the following undergraduate programs at Malayan Colleges Mindanao:
Undergraduate Programs
Bachelor of Science in Accountancy
Bachelor of Science in Management Accounting
Bachelor of Science in Entrepreneurship
Bachelor of Science in Tourism Management
Grade 11
First Semester
HRS
COR1
Oral Communication in Context
80
COR2
Komunikasyon at Pananaliksik sa Wika at Kulturang Pilipino
80
COR3
Media and Information Literacy
80
COR4
General Mathematics
80
COR5
Earth and Life Science (Earth Science for STEM)
80
COR6a
Physical Education and Health
20
APP1
English for Academic and Professional Purposes
80
APP2
Entrepreneurship
80
ABM1
Organization and Management
80
Second Semester
COR7
Reading and Writing Skills
80
COR8
Pagbasa at Pagsusuri ng Ibat-Ibang Teksto tungo sa Pananaliksik
80
COR9
21st Century Literature from the Philippines and the World
80
COR10
Statistics and Probability
80
COR11
Physical Science (Disaster Readiness & Risk Reduction for STEM)
80
COR6b
Physical Education and Health
20
APP3
Practical Research 1
80
APP4
Empowerment Technologies (E-Tech) for strand
80
ABM2
Fundamentals of Accountancy, Business and Management 1
80
Grade 12
First Semester
HRS
COR12
Contemporary Philippine Arts from the Regions
80
COR13
Introduction to Philosophy of the Human Person
80
COR14
Understanding Culture, Society and Politics
80
COR15
Personal Development
80
COR6c
Physical Education and Health
20
APP5
Practical Research 2(Prerequisite: Statistics & Probability)
80
APP6
Pagsulat sa Filipino sa Piling Larangan (Akad at Tech-voc)
80
ABM3
Fundamentals of Accountancy, Business and Management 2
80
ABM4
Business Math
80
ABM5
Business Finance (Co-requisite: ABM3, Prerequisite:ABM2)
80
Second Semester
COR6d
Physical Education and Health
20
APP7
Inquiries, Investigations and Immersion (Prerequisite: Practical Research 1 & 2)
80
ABM6
Applied Economics
80
ABM7
Business Social Ethics and Social Responsibility
80
ABM8
Principles of Marketing (Prerequisite:ABM1)
80
ABM9
Business Enterprise Simulation
80
IS 1
SAP Business Math 2
80