ANNOUNCEMENT:
NOW ACCEPTING
SHS and College
Applicants
For SY: 2020-2021, 2nd Semester, and
SY: 2021-2022, 1st Semester!
MCMxLabster:
Malayans have
Access to 140+
3D Laboratory
Simulations!
Malayan Colleges Mindanao, A Mapúa School,
has partnered with Labster, one of the leading
software companies in Denmark, developing
virtual laboratory simulations for students.
REGISTER NOW:
JOIN the Malayan
eReading Hub!
Connect, engage, and share insights with your
fellow readers and storytellers.
We have tons of activities and surprises in store for
you that come with awesome prizes from Wiley!
Good News:
Avail of a FREE
LINKEDIN LEARNING
subscription!
GRAB the chance to earn certificates from
expert-led online courses and learn in-demand
business, technology, and creative skills starting
September 20, 2020.
NEWS & UPDATES:
Coronavirus 2019
Read established guidelines, measures and important
information that will affect the MCM Community and the
administration's operations.
MCM partners with:
Coursera
A world-class learning platform, offering Malayans
3900+ courses and specializations and certifications from
190+ leading universities and companies, free-of-charge!
Giving the MCM Community:
KonsultaMD
Free 24/7 medical assistance and consultation for
MCM students and employees.
Malayan Colleges Mindanao (MCM), a branch encompassing Mapua University's technological and academic excellence in Mindanao, has occupied a 3-hectare land area along Gen. Douglas MacArthur Highway, beside Matina Town Square in Matina, Davao City.  The school officially began operations on July 2, 2018 and was followed by it's official inauguration ceremony on July 7, 2019; inaugurated by President Rodrigo Roa Duterte and graced with the presence of Mayor Inday Sara Duterte; YGC Chairperson, Mrs. Helen Yuchengco-Dee; Mapua President, Dr. Reynaldo Vea; CHED Chairman, Dr. J. Prospero "Popoy" E. De Vera III and MCM Executive Vice President and Chief Operating Officer, Engr. Dodjie Maestrecampo. 
MCM has built a community of competent and innovative leaders who possess attributes that make them globally competitive and locally in-demand, distinguishing itself from the rest.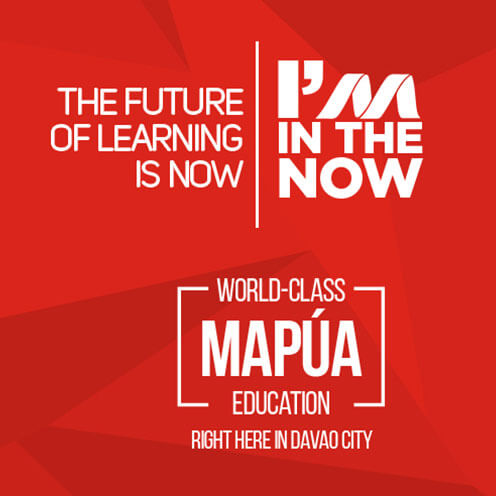 Learner-Centered Outcomes-Based Education
Transforming Students to become globally competitive professionals is at the core of MCM's vision. Through learner-centered, outcomes-based education (LC-OBE), MCM commits to ensuring that student learning is focused on attaining industry standards through clearly defined outcomes. Through LC-OBE, MCM students have access to personalized learning so they can performed their best and achieve their academic and personal goals. 
Effective Learning Spaces
By fusing innovative physical learning spaces and digital learning environments, MCM equips its students with real-time access to learning resources and an inspiring environment to study, learn, and collaborate with thier peers. Acces to wifi inside the MCM campus, topped with cutting-edge learning facilities and resources and robust digital learning management system, support students in achieving optimun cognitive performance.
The academic excellence that Mapúa is known for is embedded in MCM's DNA. MCM dedicates to bring to Mindanao the world-class Mapúa education that produces graduates that are highly preferred by industries here and abroad.